---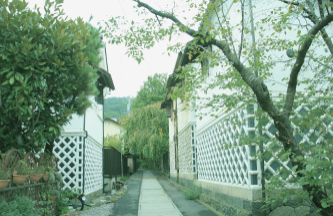 Right in the heart of Japan at the foot of the beautiful Japan Alps lies the ever popular castle town of Matsumoto. Featuring its famed 17th century castle it also hides another treasure, the hot spring resort of Asama Onsen.
Onsens, natural hot spring baths known well for their therapeutic properties, form an integral part of the Japanese experience, dear to hearts of all Japanese. For over 1,300 years Matsumoto has been blessed by nature's healing spring waters, flowing from the earth in its northeastern foot hills.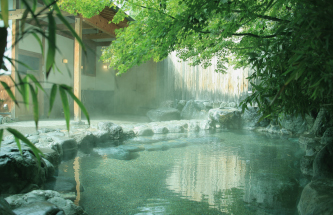 This resort was made even more popular in the 17th century by a Samurai Lord who whilst building Matsumoto's famous castle, also concerned himself with constructions of peace and comfort and constructed a bathhouse.
You can still feel that history in the impeccable hospitality of a traditional Japanese hotel and as samurai once did, savor soaking in its hot, mineral rich waters in each of Japan's four vividly distinct seasons.
On long summer evenings, bathe and listen, as the chorus of cicadas fades to be replaced with a throng of frogs in the surrounding paddy fields, as the sun sinks behind the Alps.
Or, on an autumn night, bathe away the body's aches in the healing soothing pools, surrounded by a collage of red and golden leaves, on the trees, on the ground, and perhaps on the water, floating around.
Be cleansed, in the magic of winter, sitting in the steaming water with snow on the rocks at the pools edge, a white carpet of purity all around.
Or perhaps on a crisp Japanese spring morning, amidst the graceful glory of cherry blossoms blooming across the valley, be renewed once again as you, with nature in the hot spring water, take a deep breath, as a new cycle of life begins.
---