Observation Point Of The Northern Alps (can be climbed to from Asama Onsen)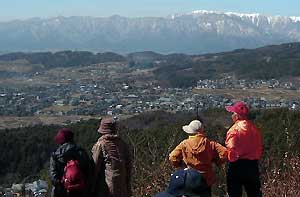 In Asama Onsen, there is a hiking route of approximately 30 mins each way.
This hiking route features a number of historical sites, which you can view as you bathe in the scent of the woods along the way. The route makes its way up to an observation point at which visitors can enjoy a great view of the Japan Alps and the Matsumoto Basin.
Japan Alps Mountain Climbing (Mt. Yari/Mt. Oku-Hotakadake)

Surrounded by beautiful mountains, Matsumoto is a mecca for mountain climbers. Mt. Yari, an icon of the Japan Alps, and Mt. Oku-Hotakadake, which is the third tallest mountain in Japan, can be climbed from within Kamikochi.
For those who aren't so confident with serious mountain climbing, you can enjoy hiking on Kamikochi's smooth level walkways, or go further to Karasawa, a renowned place for its beautiful foliage. Mt. Norikura, at 3,026 meter high, is another option to consider, taking only two hours to reach its peak when leaving from the carpark, the highest one in Japan.
After mountain climbing, many people come to stay in Asama Hot Springs, soothing their bodies there.